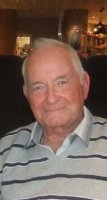 I am a retired (well almost) businessman who enjoys photography as a hobby/interest often while travelling around the World. This website allows me to share my photographs with family, friends and the public at large.
I live in Goring-by-Sea, West Sussex on the South Coast of England. I am married with two children and four grandchildren.
After obtaining a degree in Computer Science, most of my career was spent working for American Express Card Division in Haywards Heath, Burgess Hill, Hove and Brighton. My management responsibilities covered systems development, datacentre operations and customer service.
I left American Express in 1995 and then spent 10 years working with the Institute of Customer Service in its formative years. As an independent consultant, I have carried out assignments for a range of organisations including DHL, Royal Mail and
Nsure Group
. I now act as webmaster for the
Society of Consumer Affairs Professionals in Europe.
I am a member of
Gatwick Airport Consultative Committee
and am currently Chairman of its Passenger Advisory Group, comprising a number of volunteers who provide guidance and feedback to the airport management concerning the passenger experience.
This website displays photographs taken over the last 15 years. We've travelled to many places, some quite remote, and enjoyed the wildlife, scenery and culture.
If you would like to purchase any image, please email me using the Contact Me page.