Ref:
Date:
Location:
Photographer:
Ref:
Date:
Location:
Photographer:
"Over the shoulder" Painting Blog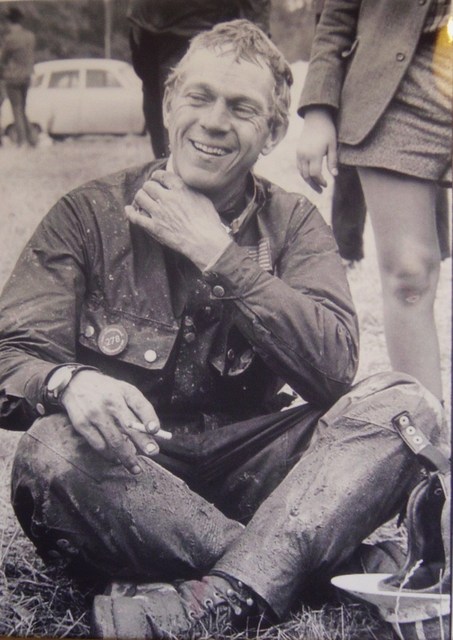 28/02/09
Often I am asked, "Where do you get your inspiration from?" or "How long does it take you to paint a picture?"
I thought for my next work I'd give you an "over the shoulder" daily blog of what goes into my paintings. This isn't intended to be a step by step instructional, I'll leave that up to the TV artists! It's about how I work, the different stages of a painting, composition, drawing, scaling up, under-painting etc to a final finished piece.
Following the great reception to my last painting of "Steve McQueen at the 1964 ISDT, I have decided to paint a portrait of this iconic actor.
He has a face that has "walked a thousand miles" just oozing with character and expression. Often on screen he would have to adopt a certain character or look but I have found these refreshing photographs by the late Francois Gragnon, have perhaps captured the "real McQueen", relaxed with friends and enjoying his great love of motorcycling.
I love this photograph of Steve sitting cross legged, relaxed and smiling with the obligatory cigarette in hand. Look's like he's completed a tough day at the ISDT and is chatting with friends about the ride that day.
Once I have selected the right image, the composition is the important part, what to draw and more importantly what to leave out of the frame! I draw a square grid over the
photograph then scale it up to a bigger grid on the canvas. This helps keep everything in proportion. Once I'm happy with the drawing,
tip Look at it in a mirror and this will magnify any errors that need correcting.
I then start the underpainting stage of the painting.
Using dilluted raw Umber acryllic paint, I put a thin wash across the whole canvas. This gets rid of the stark white canvas which tends to glare through thin layers of paint.
Using darker shades of Raw Umber I know paint in shadows and darker blocks of colour to give my drawing shape and form.
Under -painting
I have decided to paint this portrait as a monochrome piece, using shades of warm and cool grey to replicate the original photo but also in keeping with the historical date of the event back in 1964.
Working with monochrome, your drawing and painting skills have to be A+ as you cant "blind" a viewer with juxtaposed pretty looking colours!
Stage one of painting. Laying in background colours and work on his legs and foreground.
Keep tuning in over the next couple of weeks for more updates!
Today Wed 4th March I thought I'd talk a little about the equipment I use and my set-up in my studio.
Studio may be too grand a word for it!, a converted bedroom after one of the children went to university. It get plenty of natural light and great views over the fields to the peak District beyond. Along one wall are mirrored wardrobe doors, a great feature to look at your work in reverse and check on the draughtmenship.
This is my work station, a collection of drawers crammed full with every acryllic colour imaginable and jam jars full of brushes and pallette knives.
I must admit to having a bit of a "fetish" for brushes and paints. Everytime I go to my local art shop, Reams in Derby, I always end up buying new brushes and colours.
I have arranged them into seperate drawers by colour coding to easily reach a colour.
This is my wet palette, a great tool for working with fast drying acryllic.
Underneath the colours is a blotting type paper
covered with a thin tracing type paper. This holds water and keeps the colours workable for up to a week, providing you replace the coverering lid every time.
The colours I'm using on this Mcqueen portrait are clockwise from bottom left
Titanium white
Buff Titanium
Pale umber
Middle grey
Graphite grey
Paynes grey
Lamp Black
I try to use the black as sparingly as possible as it tends to "kill" or flatten a painting if overused.
When working in colour I use a lot of
Dioxazine Purple for the darker shadows.
Progress on the painting is quite slow as I
paint in more detail in his race jacket & jeans.
The most interesting part, his face, I'll leave for later as a reward when I have finished the boring bits.
More updates to follow.
10th, March, 2009
The portrait is now nearing completion. Enjoyed painting his face, the many lines and wrinkles, each with a story of it's own to tell!
There's more work yet to be done on his hands, adding more subtle shades and contours.
Here's the canvas on the easel. I'm not
100% certain yet on the background. The original photo's background was too busy, people's legs and cars in background. I may add a suggestion of the forest's behind, but I will leave the canvas on one side whilst I work on another one.
When I re-visit it in a couple of weeks time, I will look at it with a fresh vision then.
Hope you have enjoyed this blog. If you have any questions or suggestions please use the contact form on my website or alternatively e-mail me at robakinsey@hotmail.com
Naturally this painting is for sale if you are interested please e-mail me at address above.